Cortical Data - FileMaker database development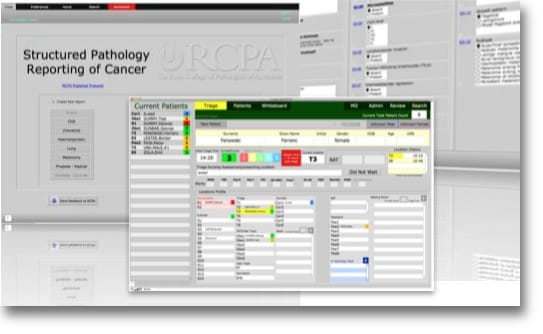 Cortical Data develops custom database solutions in FileMaker. Whatever the requirements, we can almost certainly help you; whether it is a new ground up database system (design, build and integration), or revision and modernisation of long term in-house FileMaker ® or migration of other format databases.
Databases for medical and business environments; Patient Management Systems (PMS), examples include Emergency Department Patient Management System (electronic ER whiteboard), Obesity Clinic Patient Management System, Surgical Theatre Patient Management System, Structured Pathology Reporting database tool, Immunopathology reporting tool, Medical imaging Radiology reporting database, Medical Specialist Private Practice and Accounting systems. Business database examples: Media Enquiries Log, Repair business integrated job tracking, parts inventory with integrated barcoding, integrated tool parts schematic diagrams and videos, Invoicing, purchasing and parts ordering, accounting, Income Projection Statements, food industry recipe costing software. Automotive repair job tracking and costing.
Cortical Data custom database development
Cortical Data develops custom database solutions using FileMaker Pro®. Custom databases are written to meet your specific data capture, search and retrieval data mining, and reporting requirements. Custom databases are developed in close collaboration with the client, a finessed solution is one that works how you work, and how you think.
Databases are written in FileMaker Pro ®, a long established, and well proven corporate level, cross platform (Mac ® and Windows ®) proprietary database package. Mac or Windows, FileMaker Pro works seamlessly between the two platforms.
All database solutions are written using data separation structure, providing maximum versatility, flexibility and pain free feature additions, enhancements and upgrades.
FileMaker and Access are both widely used databases, and many have started life as relatively simple data repositories, suited to immediate needs, often built by the user or colleague. Over the years, data type additions, features and functionality are commonly added. Years down the track a functional but commonly very compromised architecture is in every day use, and data integrity is often profoundly dubious. We have considerable experience in remodelling and migrating existing databases into sound solutions.
Design to fit your workflow. Databases are developed, tailored to your specific needs. While the architectural underpinnings are compliant with best practice, the data structure specifics are built to your data requirements. The interface is designed to fit how you want to work. If you want something to work in a particular way, we can make it happen.
What we do
Custom database development
Migration from other database formats
Remodelling of legacy databases to relational, normalised, standards compliant, data separation model architecture
Conversion of delimited text data to database tables
Work flow targeted interface design
FileMaker Server software installation and configuration
Client FileMaker Pro software installation
User Help documentation development
User training